About Orlando VW South Tiguan Reviews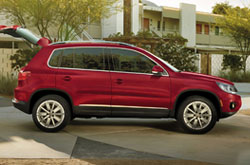 The upscale 2015 Volkswagen Tiguan is a compact crossover that offers exceptional performance and handling. Coming into the 2015 model year, the Tiguan comes with an abundance of new standard technology features that increase in-car functionality and safety throughout the roster. The R-line model also receives a brand-new rear bumper that enhances its exterior appearance. In addition to these modifications, the crossover continues to offer a refined ride and high-end power. Read our 2015 Volkswagen Tiguan review to learn more about these highlights and others on the latest model.
A host of previously available features have become standard on the 2015 Volkswagen Tiguan in Orlando. A five-inch touchscreen display, an iPod cable and Volkswagen's Car-Net connected system are now on every model in the lineup. On top of these features, a rearview camera has become standard, delivering additional assistance to drivers when backing out of parking spaces. Other components such as a panoramic sunroof, keyless entry, leather interior materials, sport-tuned suspension, power-folding mirrors and a Fender audio system are also offered on select models on the roster.
Powering the updated 2015 Volkswagen Tiguan in Orlando this year is a turbocharged 2.0L four-cylinder engine, outputting 200 horsepower and 207 lb.-ft. of torque. It can be fitted on front-wheel-drive or all-wheel-drive models and is matched with a six-speed automatic transmission. The front-wheel-drive models produce an EPA-estimated 23 mpg combined, 21 city and 26 highway, while the all-wheel-drive models deliver an EPA-estimated 23 mpg combined, 20 city and 26 highway. Aside from these fuel economy ratings, the front-wheel-drive models can also go from zero to 60 mph in 7.5 seconds, which is particularly fast for a compact crossover.
Want to know more about the model? Keep reading our 2015 Volkswagen Tiguan review for additional information, exclusive pics and engine specs.