Learn More About the New Golf From David Maus VW South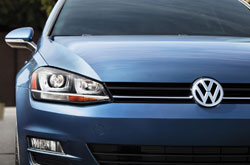 The 2015 Volkswagen Golf family is the 2015 Motor Trend Car of the year, and returns with more space, an updated look, new fuel-efficient engines and improved materials. Completely redesigned this year, the Golf sports subtle exterior enhancements, such as new lines in the side body panels, and all-new headlamps and taillights. Additionally, the Volkswagen Golf GTI has been redesigned and now features revised suspension. The Golf R has also been slightly changed and offers more power, as well as a new automatic transmission. For more details about the latest Golf models, read our 2015 Volkswagen Golf review below.
Revised for the 2015 model year, the Volkswagen Golf and Golf GTI don a brand-new body structure that is stronger than ever. Both models also offer extra space for passengers and cargo in the rear of the vehicle, providing excellent comfort and versatility. Aside from these two variants, the 2015 Volkswagen Golf R in Orlando arrives with a longer and wider platform, 18-inch wheels, Bi-xenon headlamps, leather interior materials, sport seats and exceptional steering. The new model also provides 52.7 cubic feet of cargo space with the rear seats folded down, which is perfect for transporting large items.
The 2015 Volkswagen Golf in Orlando comes standard with a 1.8L four-cylinder engine, delivering 170 horsepower and 200 lb.-ft. of torque. Both SE and SEL models are offered with an automatic transmission, while the Golf S and Launch Edition are standard with a five-speed manual. The Golf TDI model sports a 2.0L turbocharged engine, producing 150 horsepower and 236 lb.-ft. of torque, and is available with either a six-speed manual or six-speed automated manual. The front-wheel-drive Golf GTI comes equipped with a 2.0L four-cylinder engine, outputting 210 horsepower and 258 lb.-ft. of torque, while sporting a six-speed manual and six-speed automated manual. Delivering 292 horsepower and 280 lb.-ft. of torque, the Golf R's turbocharged four-cylinder is available with either a six-speed manual or dual-clutch automatic transmission, and delivers first-class performance across the lineup.
To acquire more info about the award-winning new Golfs, continue browsing our 2015 VW Golf review.