Orlando Volkswagen Dealer Reviews the 2015 Beetle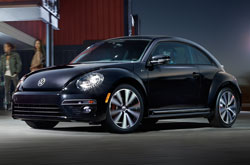 The highly capable 2015 Volkswagen Beetle makes its way back onto the scene this year with an array of new and updated features. A new trim level, Beetle Classic, is now available on the lineup and the 2.0L diesel engine receives an increase in power. Additionally, a standard rearview camera is now equipped on all models. The Beetle also continues to deliver top-notch fuel efficiency and performance, while donning a fun exterior design. To find out more info about the revised model, check out our 2015 VW Beetle review below.
With its unique styling and first-class features, the 2015 Volkswagen Beetle in Orlando is a one-of-a-kind vehicle. The hatchback is available in both coupe and convertible configurations, with each offering top-notch components. A panoramic sunroof, keyless ignition/entry, Bluetooth, heated mirrors and cruise control are just a few of the options offered on the Beetle. The all-new 1.8T Classic Beetle model also comes with navigation, satellite radio, a touchscreen display, lumbar adjustment for the front seats and updated interior materials, delivering a greater experience for drivers and passengers.
Three different engine options are available on the latest 2015 VW Beetle in Orlando. A 1.8L turbocharged four-cylinder serves as the base option, and produces 170 horsepower and 184 lb.-ft. of torque. It can be matched with a five-speed manual or six-speed automatic transmission. All Beetle R-Line model receive a turbocharged 2.0L four-cylinder engine, delivering 210 horsepower and 207 lb.-ft. of torque. A six-speed manual or six-speed automated manual can be paired with the engine, which deliver incredible fuel economy. The Beetle TDI comes equipped with a turbocharged 2.0L diesel that outputs 10 extra horsepower this year. It now rates at 150 horsepower and 236 lb.-ft. of torque, and offers an EPA-estimated 34 mpg combined, helping drivers preserve fuel.
For details about the latest Beetle, continue browsing our 2015 Volkswagen Beetle review.