How Often Do VW Brake Pads Need to Be Replaced?
Having your brakes checked each year is the best way to keep an eye on when they'll be due for service. When you're pads reach 3mm, we advise replacing them. It's best to play it safe and have them replaced before they wear so thin that the brake rotors suffer.
High-pitched squeal
If you hear this noise when braking, it means that your brake wear indicator has been activated and you need to have your brake pads replaced. Our VW brake repair shop in Orlando, FL can assist with your brake change service.
OEM VW brake pads versus aftermarket
If you need brake pads for a VW Passat, Golf, Touareg, Beetle or another Volkswagen model, we recommend using genuine VW brake pads. Saving a little bit on cheap aftermarket brake pads is not worth it when you consider that they don't offer the same longevity, dependability and rust resistance as OEM Volkswagen parts.
Why Are Brake Fluid Flushes Important?
Brake fluid isn't immune to moisture. In fact, it's a hydroscopic liquid, which means that it absorbs water. The fluid starts in a "dry" state, and as it collects moisture from the air, it becomes "wet" over time, which makes it less effective at preventing rust and corrosion. If you have your brake fluid inspected on an annual basis, our Orlando brake repair shop can properly monitor the condition of the fluid and provide you with friendly reminders when you're due for a brake fluid flush.
Wet brake fluid is also more affected by heat. It comes to a boiling point faster, which can cause vaporizing in the brake lines. In this case, braking force may not be properly transferred, which can ultimately cause brake failure.
When to Change Brake Rotors on Your VW
Issues with rotor discs are displayed in a number of ways. If you hear grinding when you hit the brake pedal, it means the brake pads have worn out and that there is contact between a rotor and caliper. If you hear grinding, it's very important to bring your car into our VW brake repair shop in Orlando. It's dangerous to drive with a vehicle in this condition, as fading and locking brakes can occur. By the way, having your pads replaced in a timely fashion will prevent grinding.
In addition, uneven or warped rotors are another problem some drivers encounter, and they typically cause vibration or pulling when the brakes are applied. If you're experiencing this, bring your vehicle to us for a diagnosis.
Where's a Good Brake Shop Near Me?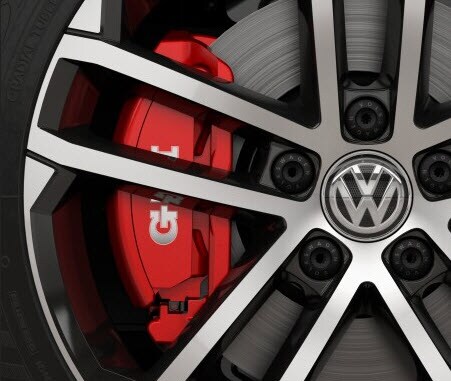 David Maus VW South is proud to serve cities around the south Florida area. Our Orlando brake repair center is here to assist you whether your Volkswagen's in need of new brake pads, rotor discs or a fluid flush. Check out service specials to see if our latest monthly offers include any brake service coupons. You can also order VW brake pads in Orlando on our website, in addition to other OEM parts.