Our service center is one of a kind. With seasoned veteran certified technicians who provide service with a smile, you always have a place to bring your Volkswagen vehicle if your AC unit isn't performing the way you believe it should. As AC units age in vehicles, they often begin to exhibit symptoms of wear and tear due to use. And this is completely normal. The important thing to remember is that the longer you ignore problems with your AC, the worse those problems will become. Don't let a hot day in your car get you down. Whether it's a smelly AC, an AC blowing warm air, or an AC that won't even turn on, our certified technicians are ready to help you find out what the problem is and fix it.
What might cause a bad odor from AC Unit?
This is a frequent problem we encounter here, and every situation is different. bad odors can come from buildup in any number of the AC unit's components: Drain pan, evaporator core, vents, and ducts can all get mildew and mold on parts of them. Leaks are usually the culprit that begins the buildup, but if it goes untreated, it can begin to cause enormous buildup in the AC unit components.
Why is warm air blowing out instead of cold air?

The purpose of the AC unit is to remove the warm air from the unit and blow out fresh, cool air. A number of issues might cause the AC to blow out warm air. Sometimes a leak will cause certain components of the AC to become clogged or full of bacteria, meaning that the air that's coming out is not going to be the cool, crisp air you're expecting but a blast of warm air that's unpleasant to deal with. Sometimes your unit may be low on refrigerant, and that means that the person serving your vehicle needs to replace the old refrigerant. There are filters in your unit as well that might become old and worn out with more use. It's a simple matter of replacing them. And still other times, entire components might go "out" in your AC, causing you to need replacement parts. Only our certified technicians will be able to diagnose the problem and fix it.
What is Black Death?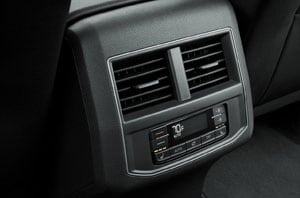 It's the dreaded "black death" that so many AC's finally succumb to, but what exactly is this? It's the gunky black material that often shows up on vehicle AC's at the end of their lifetime, and only your certified mechanic at our dealership is going to recognize it instantly. And yes, it does mean death and the replacement of the AC unit, but you'll find a lot of great specials on AC units here, as well as all of their accompanying parts. It's the single best way to take care of the black death that so many AC's eventually face. You can replace the old one with a sparkly new, fresh, cool, crisp AC unit for your Volkswagen (and remember, we use OEM parts, so you always know you're getting the parts that are meant for your beloved vehicle!).
If your AC is showing signs of trouble, call us to schedule a service visit as soon as possible! Our service team is prompt, thorough, and happy to work on the vehicles that they, and you, love so much. Check out our service specials and call today!
Service Hours
Monday

7:30 AM - 6:00 PM

Tuesday

7:30 AM - 6:00 PM

Wednesday

7:30 AM - 6:00 PM

Thursday

7:30 AM - 6:00 PM

Friday

7:30 AM - 6:00 PM

Saturday

7:30 AM - 5:00 PM

Sunday

Closed