One of the newest and most celebrated SUVs from Volkswagen is the Taos. The Taos is a stylish and sporty SUV that has an athletic design and a go-anywhere attitude. Many standard features are already included on the Taos, with more components added as you progress up the line. However, those wanting even more can choose to equip their SUV with a variety of amenities and accessories. Some are available as standalone enhancements, while others are included as part of a more comprehensive package.
Basecamp Accessories
To enhance the appearance of your VW Taos, one option to consider is the Basecamp package. The Basecamp package has a number of exterior enhancements that can give your car a bolder and sportier look. The package includes customized side plates for the lower doors that give the sides of the car striking detail. You can also get integrated splash guards to help protect the exterior from mud and snow while enhancing the SUV's look. Unique fender flares in front and rear are also optional with the Basecamp package. Along with the standard amenities that it includes, the Basecamp package can also be equipped with a Basecamp badge on the front grille. The Basecamp package can be installed on new models of the SUV. If you want to add more aesthetic details to your VW, you can order a special Basecamp badge separately. This badge can be affixed to the front grille of the car.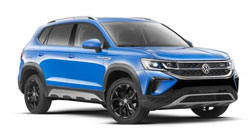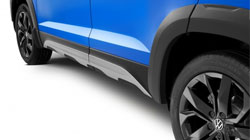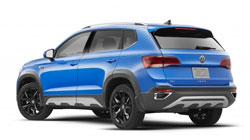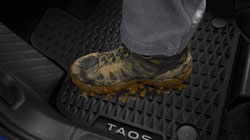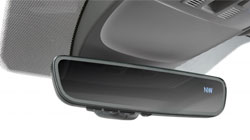 Comfort and Protection
A number of features are also available to enhance the level of comfort and protection in your Taos. Covers of various colors are an option to protect the car's exterior from the elements. For a sportier look and a more aerodynamic feel as you're driving along, you also have the option to get air deflectors. Assorted floor mats are an option to keep the cabin floors from getting damaged due to excessive dirt or mud exposure. Your car's electronics system can also be upgraded with various media and USB adapter cables. An enhanced auto-dimming rear mirror with VW's HomeLink system is also a possible accessory.
Storage and Transportation
If you want the option to take more gear along for the ride when you travel, you'll be glad to know that there are also accessories available for transporting certain items such as skis, kayaks, and bikes. External cargo transport cases are also available to increase storage capacity for all your belongings with the VW Taos.
Contact our dealership today to get more details on the VW Taos and its accessories.