Volkswagen Introduces the ID.4 SUV
Volkswagen has revealed the sleek, innovative ID.4 electric crossover. Volkswagen aims to make electric vehicles more mainstream by making the ID.4 affordable for the masses. In fact, the slogan for the brand's goal is: "Where the Beetle brought mobility to the masses, the ID.4 brings e-mobility to the millions, not the millionaires."
Volkswagen first unveiled the concept vehicle of the ID.4 at the 2017 Shanghai auto show. They made updates to the concept at the Frankfurt Auto Show soon after. Now the latest version of the model has been unveiled, and we're excited to share information about it with you!
What's Under the Hood?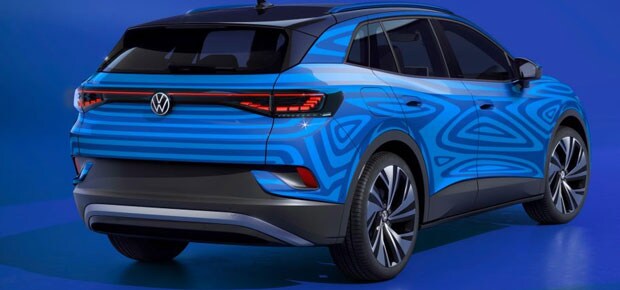 When it hits the market, the rear-mounted motor of the Volkswagen ID.4 will be powered by a 82-kWh battery. Power output is 201 HP, with 228 lb-ft of torque. The first models will only be available in rear-wheel drive, but next year, a dual-motor, all-wheel drive version will be available. It will offer more power, getting a combined 302 HP, with a slight range reduction. The ID.4 aims to kill range anxiety with about 250 miles of driving between charging. You can charge the ID.4 from 5 to 80 percent in 38 minutes using a 125-kWh charger. Even if you're not near a charger, there's a 11kW onboard charger that can squeeze out another 33 miles after about an hour of charging. Volkswagen sweetens the deal with an Electrify America partnership to provide all ID.4s three years of free fast-charging.
Interior and Technology Features
ID.4 comes with a full panoramic glass roof, standard wireless charging, four USB-C charging ports, a power tailgate with an easy-open gesture function, adaptive interior lighting, gesture controls, and wireless app connect. There's a choice of a 10- or 12-inch infotainment display. A complete array of driver-assistance features will also be incorporated in the Volkswagen IQ.Drive package.
The style of the ID.4 is a perfect blend of future-forward design with strong brand identity. The interior features a dashboard-spanning ID.Light, an intuitive light bar that communicates with you by giving acoustic cues for charging status, when you get an incoming call, and brake warnings. A cluster-mounted shift array houses drive functions and a 5.3-inch digital dash adds to the clean futuristic sensibilities.
Learn More at Orlando Volkswagen South
If you'd like more information about this exciting new vehicle, contact us or visit Orlando Volkswagen South. You can reserve your ID.4 with a small refundable deposit.
*As vehicle production starts, reservation holders will be invited to lock in their configuration and confirm their order with an additional fully refundable deposit. From placing a reservation to production and through delivery, customers can then track the status of their order and see when they can expect their ID.4 to arrive at the dealership. At that time, the customer can conclude the transaction with the dealer and complete the purchase. All deposits will be applied to the final purchase price. Contact us for more details.