If you have road trips planned for this summer but are also in need of a new vehicle, then you might want to take a minute to look into which vehicles on the market are great for traveling and adventure. There are a number of Volkswagen models that are very practical and useful if you are traveling with many items in tow. If you are looking for a getaway to remember, let's take a look at which Volkswagen vehicles are good for family summer road trips.
Volkswagen Atlas
The new 2018 VW Atlas is a vehicle that is perfect if you are looking for a little more space than your average vehicle. Depending on how many people you are traveling with, the cargo space can expand to as much as 96.8 cubic feet by lowering the second and third row seating. You also get plenty of towing capacity at 5,000 pounds. This gives you options to tow jet skis, trailers, campers, etc. If you need a vehicle outfitted with enough cup holders, you're in luck as the VW Atlas offers seventeen cup holders. If that's not a sign you will be driving in comfort, I don't know what is!
Volkswagen Jetta
When you arrive at your destination, you may have to park your vehicle at a hotel, motel or resort with limited available parking. Because of this, you might want to stick with a compact sedan that provides a comfortable ride, but is also easy to maneuver. The Volkswagen Jetta is a great vehicle with a five star safety rating and is a Top Safety Pick for Front Assist driving. It is also an extremely affordable vehicle and gets great gas mileage.
Volkswagen Golf Alltrack
This is an all around perfect family vehicle for traveling. The Golf Alltrack is spacious on the inside, has lots of cargo space and is also really affordable. You get 4Motion all wheel drive along with an off road mode that allows you to take your vehicle where you need to go to find that adventure you are looking for. You also have increased road clearance for better maneuvering and safety. A step up from a basic sedan, the VW Golf Alltrack is a family vehicle that is great for road trips but it is also very practical for everyday use.
Volkswagen Beetle (Convertible Style)
The VW Beetle is a classic vehicle that is fun for just about any road trip. If you love more wind and sun while driving, you may want to consider getting the convertible option. This VW favorite has been updated over the years with great features such as a turbocharged engine and Fender Premium Audio Sound System. This Beetle is priced affordably and fuel efficient, but keep in mind you don't get a ton of room in the back seating area and the trunk space is somewhat limited as well. This is a better vehicle for shorter road trips.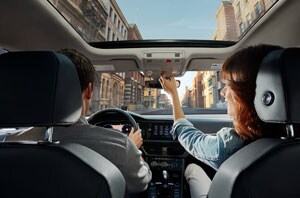 Summer is a time to take a break from school and work, and make memories with those that you love. If you are heading outdoors and need a vehicle to get you on your way to fun, be sure to visit our dealership to take a look at our Volkswagens that fit the bill for a fun family vacation. We have a vehicle for everyone, whether you need interior space, trunk space, great road handling or plenty of power under the hood.