Volkswagen is one of the top automakers in the world that stands out for its sophisticated and reliable models that continue to improve and evolve. For drivers who are looking to own a new VW, safety is likely a top concern when making a selection. When you're shopping around for the safety car of the 2019 VW line-up, there are a few models to consider for added peace of mind while spending time on the road.
Volkswagen Tiguan
The VW Tiguan is considered to be one of the safest models that's released from the automaker for 2019 due to its top-notch safety rating as a crossover SUV. Innovative technology and features improve driver confidence while reducing the risk of a collision. Safety features include engine brake assist, electronic differential lock, an anti-lock braking system, electronic stability control, a tire pressure monitoring system, and multiple airbag systems. An Intelligent Crash Response System also reduces the risk of an accident by alerting the driver of a potential collision and slowing the vehicle down. A rearview camera is also standard to improve visibility and eliminate blind spots when backing out of parking spaces. An overhead view camera system is also available as an upgrade for those who want to see an aerial view of the vehicle while it's in motion.
While spending time behind the wheel, many features improve driver confidence with a blind spot monitor, pedestrian monitoring, lane keeping assist, park distance control, forward collision warning, rear traffic alert, high beam control, adaptive cruise control, and autonomous emergency braking.
Volkswagen Jetta
The VW Jetta continues to be one of the safest vehicles from the automaker due to the advanced safety and assistance features that it's equipped within the cabin. Drivers can feel more at ease knowing that they'll be alerted of oncoming cars or if they're drifting into another lane. The top features include adaptive cruise control, rear cross traffic alert, high beam control, lane keeping assist, forward collision warning, park distance control, autonomous emergency braking, and blind spot monitor. All of the features are designed to provide more visibility on the road and keep the driver in their lane to avoid drifting. A rearview camera system is also built into the car to make it easier to back out of spaces without getting into a fender bender. Additional add-ons to take advantage of include the Intelligent Crash Response System, the automatic post-collision braking system, tire pressure monitoring, and engine brake assist.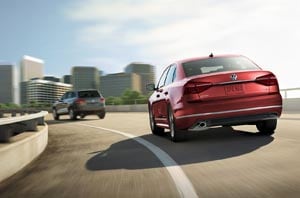 Volkswagen Passat
The Passat is outfitted with the latest and most advanced safety features in the auto industry, which improves its overall value. Drivers can utilize the adaptive cruise control, front and rear parking sensors, a rearview camera, blind spot monitoring, lane keep assist, and forward collision warning with automatic emergency braking. Rain-sensing windshield wipers also make it easier to remain safe in inclement weather conditions while improving visibility when it rains or snows. The wipers increase their speed depending on the amount of rain that has contact with the windshield. The vehicle has also received high ratings and scores from the Insurance Institute for Highway Safety and the National Highway Traffic Safety Administration for crash tests that were conducted. It performed well with its side impact, roof strength, moderate overlap front, and rear strength tests.
Contact or visit our dealership today if you'd like to learn more about the safest cars for the 2019 Volkswagen Lineup. Our team is here to provide you with more information and also assist you in scheduling a test drive of a specific model.