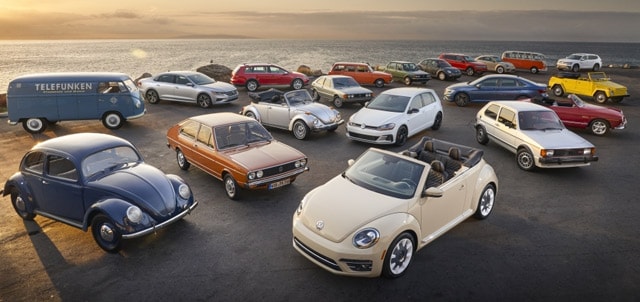 The term Volkswagen directly translates to "People's car" in German, which is exactly what Ben Pon was looking to sell Americans when he came over here in 1949. Ben Pon was a Dutch businessman who first arrived in America with two Volkswagen Type 1 vehicles that later transformed into what we historically know as the Volkswagen Beetle. The Beetle that we've grown to love over the past 70 years may be a hit among modern consumers, but the concept models didn't quite take off as fast as they had anticipated. Only two were actually sold to American drivers.
The mild response Volkswagen found towards their 1949 models may have been attributed to the small size of the vehicle, and the air-cooled engine that was unable to provide a high amount of horsepower. To promote the simplicity of what had now turned into the Beetle, they hired producers at the Doyle Dane Bernbach agency in hopes of creating an ad campaign that would result in more sales. The agency opted for a simplistic campaign known as the "Think Small" ads. These printed advertisements marketed the minimalist characteristics of the Beetle, and sales ended up boosting tremendously.
After seeing the success following the Think Small campaign, Volkswagen manufacturers started working on a split-window Type-2 bus in the year 1954. This is what is known as their classic "hippie bus" model. Thirteen years later, they ended up creating a new bus model off of this concept that included 21 windows. The vast amount of windows paired with the open roof allowed natural sunlight to pour through to both the driver and its passengers.
In 1966, Volkswagen started to get much more advanced in their vehicle models. They came out with a Squareback in hopes of reinventing themselves from their simplified image. They utilized Audi-inspired features and two passenger doors. It not only excelled in terms of performance, but it offered the sense of innovation that they were seeking to add to their brand. This particular Squareback model ended up being popular among consumers that wanted to upgrade to a newer Volkswagen vehicle without it being a Type-2 bus.
Exactly seven decades later, Volkswagen has sold millions of vehicles in the United States, and they continue to see high rates of success annually. Whether they're releasing a model based on a completely new concept, or just reinventing one of their classics, Volkswagen always seems to maintain their presence as one of the most sought-after vehicles makes. Stop by Orlando Volkswagen South, and let us help you find the perfect Volkswagen model for you.